Wednesday: Housing Starts
From Matthew Graham at Mortgage News Daily:
Remember Mortgage Rates in the 2's? They're Closer to 4% Now
One of the very few welcome byproducts of the pandemic was the pervasive availability of new all-time low mortgage rates. Depending on when you checked in, you were highly likely to see top tier 30yr fixed rates in the 2% range. ... The average lender is now up to 3.75% after starting the day at 3.625%. [30 year fixed 3.70%]


emphasis added
Tuesday:
• At 7:00 AM ET, The Mortgage Bankers Association (MBA) will release the results for the
mortgage purchase applications index
.
• At 8:30 AM,
Housing Starts
for December. The consensus is for 1.655 million SAAR, down from 1.679 million SAAR.
• During the day, The AIA's
Architecture Billings Index
for December (a leading indicator for commercial real estate).
On COVID (focus on hospitalizations and deaths):
COVID Metrics
Now
Week
Ago
Goal
Percent fully Vaccinated
63.0%
---
≥70.0%1
Fully Vaccinated (millions)
209.3
---
≥2321
New Cases per Day3
701,277
752,342
≤5,0002
Hospitalized3🚩
137,384
120,397
≤3,0002
Deaths per Day3🚩
1,746
1,664
≤502
1 Minimum to achieve "herd immunity" (estimated between 70% and 85%).
2my goals to stop daily posts,
37-day average for Cases, Currently Hospitalized, and Deaths
🚩 Increasing 7-day average week-over-week for Cases, Hospitalized, and Deaths
✅ Goal met.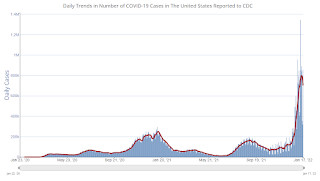 Click on graph for larger image.
This graph shows the daily (columns) and 7-day average (line) of positive tests reported.
The 7-day average for new cases are just below record levels. Hospitalizations are at record levels.
Fortunately, deaths are still only half the previous 7-day average record of 3,421 per day in January 2021.