MBA: Mortgage Applications Decreased, Purchase Applications down 33% YoY
From the MBA:
Mortgage Applications Decrease in Latest MBA Weekly Survey
Mortgage applications decreased 17.9 percent from one week earlier, according to data from the Mortgage Bankers Association's (MBA) Weekly Mortgage Applications Survey for the week ending April 3, 2020.

... The Refinance Index decreased 19 percent from the previous week and was 144 percent higher than the same week one year ago. The seasonally adjusted Purchase Index decreased 12 percent from one week earlier. The unadjusted Purchase Index decreased 12 percent compared with the previous week and was 33 percent lower than the same week one year ago.
...
"Mortgage applications fell last week, as economic weakness and the surge in unemployment continues to weigh heavily on the housing market. Purchase activity declined again, with the index dropping to its lowest level since 2015 and now down 33 percent compared to a year ago," said Joel Kan, MBA's Associate Vice President of Economic and Industry Forecasting. "With much less liquidity and tighter credit in the jumbo market, average loan sizes declined, and mortgage rates for jumbo loans increased to a high last seen in January."

Added Kan, "Refinance applications dropped 19 percent, reversing a 25 percent increase the week before. Given the ongoing rate volatility, along with the persistent lack of liquidity in certain sectors of the MBS market, we expect to see continued weekly swings in refinance activity."
...
The average contract interest rate for 30-year fixed-rate mortgages with conforming loan balances ($510,400 or less) increased to 3.49 percent from 3.47 percent, with points decreasing to 0.28 from 0.33 (including the origination fee) for 80 percent loan-to-value ratio (LTV) loans.


emphasis added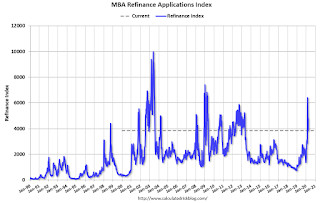 Click on graph for larger image.
The first graph shows the refinance index since 1990.
The refinance index has been very volatile recently depending on rates and liquidity.
Note the Fed has stepped up buying of MBS last month and that helped with liquidity.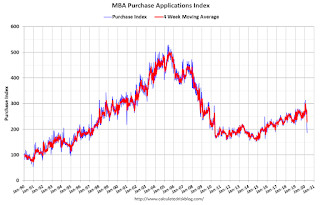 The second graph shows the MBA mortgage purchase index
According to the MBA, purchase activity is DOWN 33% year-over-year.
It appears purchase activity is falling sharply.
Note: Red is a four-week average (blue is weekly).