Las Vegas Visitor Authority: No Convention Attendance, Visitor Traffic Down 51% YoY in September
From the Las Vegas Visitor Authority:
September 2020 Las Vegas Visitor Statistics
Gradual increases continued in September as the destination hosted approx. 1.7M visitors, just under half of last year's estimated tally but up 10.9% from last month.

While operating at varying capacities, open properties in September represented an inventory of 133,079 rooms.* Total occupancy reached 46.8% for the month as weekend occupancy improved to 66.1% and midweek occupancy reached 38.5%.

Average daily rates among open properties reached $108.13 (+9.0% MoM, -21.1% YoY) while RevPAR came in at roughly $50.60, down -58.2% vs. last September.
*

Reflects weighted average of daily room tallies
Here is the data from the
Las Vegas Convention and Visitors Authority
.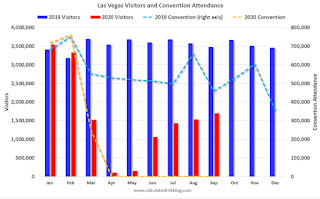 Click on graph for larger image.
The blue and red bars are monthly visitor traffic (left scale) for 2019 and 2020. The dashed blue and orange lines are convention attendance (right scale).
Convention traffic in September was down 100% compared to September 2019.
And visitor traffic was down 51% YoY.
The casinos started to reopen on June 4th (it appears about 89% of rooms have now opened).