MBA Survey: "Share of Mortgage Loans in Forbearance Decreases for Third Straight Week to 8.39%" of Portfolio Volume
Note: To put these numbers in perspective, the MBA notes "For the week of March 2, only 0.25% of all loans were in forbearance."
From the MBA:
Share of Mortgage Loans in Forbearance Decreases for Third Straight Week to 8.39%
The Mortgage Bankers Association's (MBA) latest Forbearance and Call Volume Survey revealed that the total number of loans now in forbearance decreased by 8 basis points from 8.47% of servicers' portfolio volume in the prior week to 8.39% as of June 28, 2020. According to MBA's estimate, almost 4.2 million homeowners are in forbearance plans.
...
"We learned last week that the job market improved more than expected in June. With that as background, it is not surprising that the forbearance numbers continue to improve as more people go back to their jobs," said Mike Fratantoni, MBA's Senior Vice President and Chief Economist. "The improvement in the forbearance data was broad-based, with declines for both GSE and Ginnie Mae loans. The decrease in new forbearance requests indicates that further declines are likely in the weeks ahead."

Added Fratantoni, "Looking at the mix of loans that are exiting forbearance, we are seeing a higher share exiting into deferral options and modifications, and somewhat fewer simply opting out of a forbearance plan."


emphasis added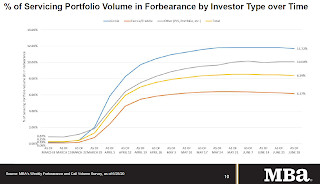 Click on graph for larger image.
This graph shows the percent of portfolio in forbearance by investor type over time. Most of the increase was in late March and early April.
The MBA notes: "Weekly forbearance requests as a percent of servicing portfolio volume (#) decreased to 0.12 percent from 0.14 percent the previous week."