ISM Manufacturing index Increased to 56.0 in August
The ISM manufacturing index indicated expansion in August. The PMI was at 56.0% in August, up from 54.2% in July. The employment index was at 46.3%, up from 44.3% last month, and the new orders index was at 67.6%, up from 61.5%.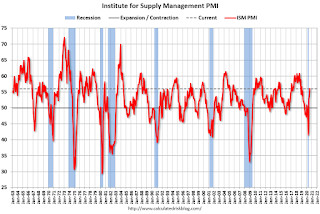 Click on graph for larger image.
Here is a long term graph of the ISM manufacturing index.
This was above expectations of 54.5%, but the employment index indicated further contraction.
This suggests manufacturing expanded at a faster pace in August than in July.