Black Knight Mortgage Monitor for March
Black Knight released their
Mortgage Monitor report
for March yesterday. According to Black Knight, 5.02% of mortgages were delinquent in March, down from 6.00% of mortgages in February, and up from 3.39% in March 2020. Black Knight also reported that 0.30% of mortgages were in the foreclosure process, down from 0.42% a year ago.
This gives a total of 5.44% delinquent or in foreclosure.
Press Release:
Inflow of New Mortgage Delinquencies Drops to Record Low in March; April Payment Data Suggests Further Improvement Likely
Today, the Data & Analytics division of Black Knight, Inc. released its latest Mortgage Monitor Report, based upon the company's industry-leading mortgage, real estate and public records datasets. In light of March's 16.4% decline in delinquencies – as reported in Black Knight's First Look at the month's data – this month's report drills deeper into what that may mean for the market. According to Black Knight Data & Analytics President Ben Graboske, both the company's full-month data for March and its unique McDash Flash daily performance tracking data for April suggest strengthening economic trends are now manifesting in the mortgage market.

Not only did March see the largest single-month improvement in delinquencies in 11 years, but all indications suggest more is yet to come," said Graboske. "Several factors contributed to particularly strong mortgage performance in March, including the distribution of 159 million stimulus payments totaling more than $376 billion, broader economic improvement leading to nearly a million new jobs and 1.2 million forbearance plans reviewed for extension or removal, resulting in an 11% decline in plan volumes in the last 30 days. As many early forbearance plan adopters shifted to post-forbearance waterfalls to get back to performing on their mortgage payments, inflow has continued to steadily improve as well. And, of the 7.1 million homeowners who have been in COVID-19 forbearance at one point or another, performance among those who have left plans has generally been strong.

"Some other key metrics also point to a robust recovery under way. Despite mortgage delinquencies tending to trend seasonally upward starting in April, our McDash Flash daily performance dataset instead shows strong early payment activity for the month. Through April 23, 91.6% of mortgage holders had made their monthly payments, up from 91% in March and the largest share for any month since the onset of the pandemic. That said, while overall sentiment for an economic recovery in 2021 remains robust, mortgage performance is expected to run into seasonal headwinds for most of the remainder of the year, which could marginally dampen overall improvement rates. Black Knight will continue to monitor the situation as we move forward."


emphasis added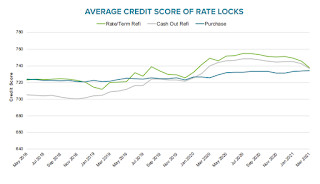 Click on graph for larger image.
Here is a graph from the Mortgage Monitor that shows Credit Scores of rate locks.
From Black Knight:
Interesting trends are being seen among credit scores of both purchase and refinance rate locks in recent months

• After seeing credit scores among both purchases and refinances hit all-time highs in 2020, credits scores specifically among refinances have begun to wain early this year

• This type of behavior is typical in a rising rate environment as high credit score borrowers tend to be the first to jump in and refinance when rates fall and the first to exit the market as rates begin to rise

• The average credit score among rate/term refinances is down 13 points year to date, while the average among cash out refis is down a more modest 8 points

• At the same time, credit quality among purchase loans continues to remain strong with the average credit score of purchase locks up 3 points through March 2021 from 2020's already record highs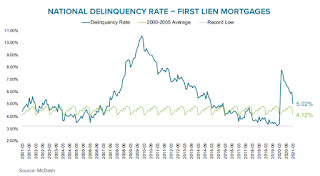 And on delinquencies from Black Knight:
• March saw the largest monthly decline among delinquencies in 11 years, and the second-largest monthly improvement ever recorded

• March delinquency drops are common, accounting for 17 of the 19 largest monthly declines in recent history

• This month saw even more robust improvement than average due to both January and February ending on Sundays – which tends to dampen performance and then lead to "bounce back" gains – as well as broader economic improvements
There is much more in the
mortgage monitor
.